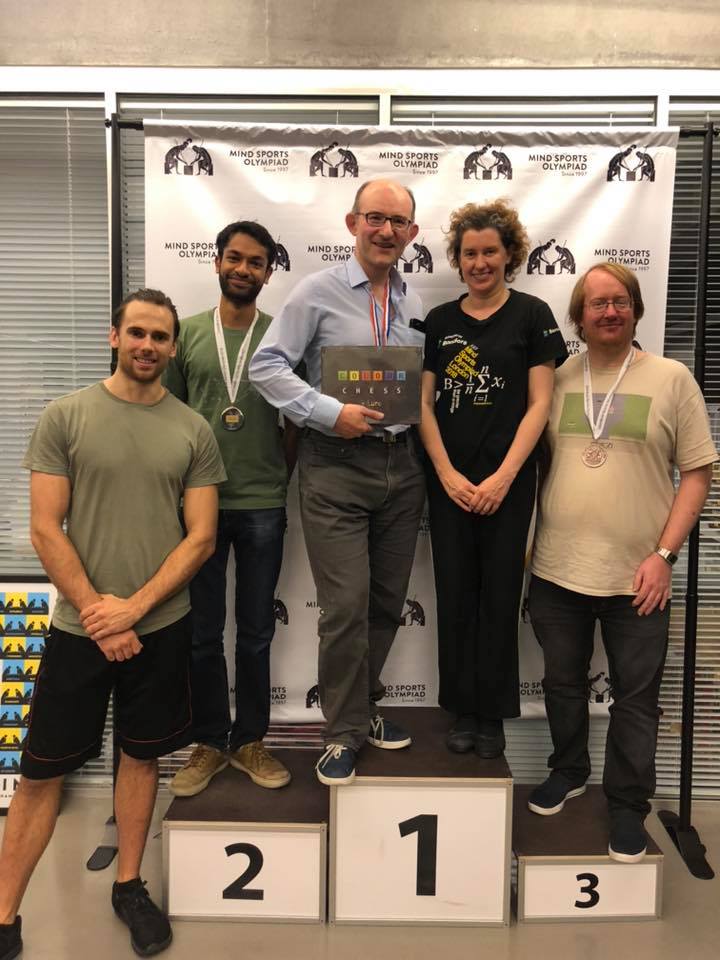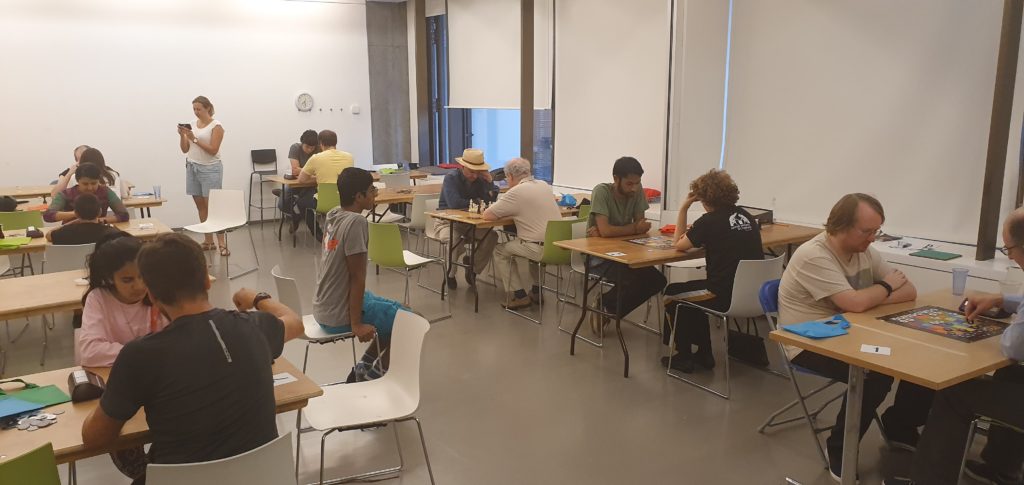 Last weekend saw the return of Colour Chess to the exciting Mind Sports Olympiad in London, where the 2nd World Championship was held.
There were a number of returning players who put their extra experience to good use and the level of play was higher across the board. The top players displayed some very intricate and advanced play, with layers of traps and subtle shifting colour dominance.
The game between the top two players was incredibly exciting, as each player was down to just their 10 second increment for a number of minutes at the end of the game, resulting in some very tense and frantic decision-making, but in the end Saravanan was defeated by British Chess champion and Grandmaster Matthew Sadler.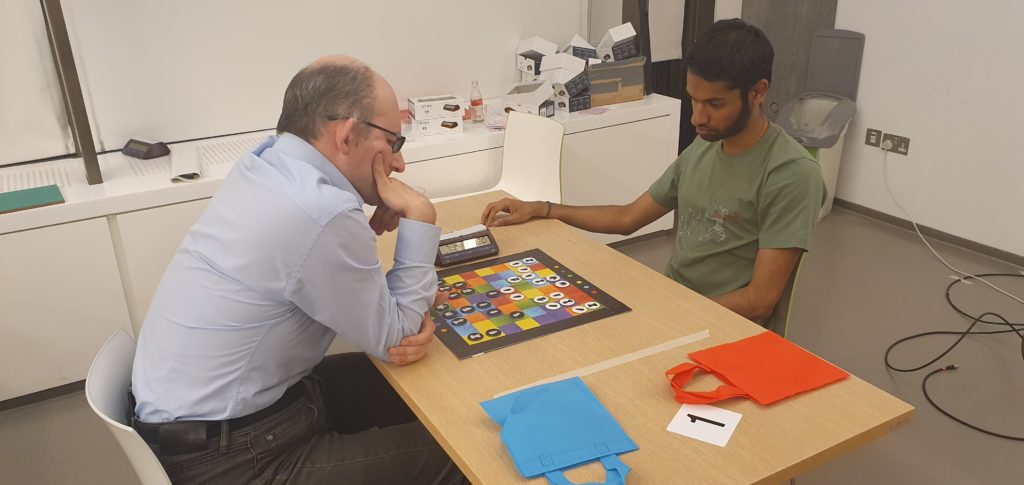 You can watch some commentary on a couple of the games in the video at the bottom of this post. Thanks to Steve Raine and Oli Norfolk for occupying the commentary box and sharing their thoughts on the games.
For those not familiar with Colour Chess, the aim is to use the colours to restrict where your opponent can move, at the same time as dealing with the difficulties they are causing you. The video below gives a quick overview.
This year, to reduce potential colour imbalance in the board setup, we added an additional rule: 'When filling in their back two rows during board setup, if a player pulls out the 5th tile of any colour then they put it back in the bag (after checking in with their opponent), repeating this if necessary. This ensures that there will be at least 1 of each colour available in the front two rows.' This meant that players weren't forced to miss any moves at the very start of the game, which potentially could put them too far behind on piece development.
The Results:
Congratulations to the new Colour Chess World Champion Matthew Sadler! He is also currently the top ranked player on the free to play Colour Chess app. Matthew was undefeated in the tournament and demonstrates an exceptionally high level of play, usually able to take control of the board very early on in a game and adept at spotting the opponent's colour weaknesses and exploiting them.
Saravanan Sathyanandha was a close 2nd place, improving on his 3rd place finish from last year. He also very kindly helped to arrange and run the tournament, so a massive thank you to Saravanan!
Martyn, last year's winner, held a respectable 3rd place and was closely followed by Will Taylor, Natasha Regan, Alex Sebastián Enesco and Marco Trevisan, who all finished on 3 points (their finishing order was determined by the strength of their opponents).
| | | |
| --- | --- | --- |
| Position | Name | Score |
| 1 | Sadler, Matthew | 5 |
| 2 | Sathyanandha, Saravanan | 4 |
| 3 | Hamer, Martyn | 3 |
| 4 | Taylor, Will | 3 |
| 5 | Regan, Natasha | 3 |
| 6 | Sebastián Enesco, Alex | 3 |
| 7 | Trevisan, Marco | 3 |
Thank you as ever to the Mind Sports Olympiad team for their brilliant event and to all of the competitors and we look forward to many more games of Colour Chess!